You will not want to miss the words of wisdom from this original member of the GEAR UP community. Check out what our very own Weiya Liang has to say about his experience with GEAR UP.
There is a group of practitioners that have been with GEAR UP since the beginning. Think of them as the "GEAR UP Rat Pack". That group of original co-performers has always included Weiya Liang.  
At NCCEP, we consider Weiya to be a true thought partner and someone we call when we need a direct perspective, grounded in the honest truth. He is always ready to engage in a deep discussion about critical GEAR UP topics, from the GEAR UP regulations to research and evaluation.
It gives me great pleasure to share Weiya's insights with you in our most recent interview in the Lessons from the Experts blog series.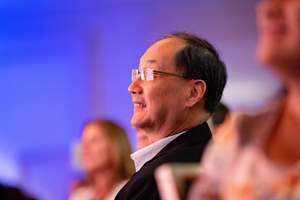 Weiya Liang, Director for College Access and Support, Washington State GEAR UP
How long have you been involved with GEAR UP?  I have been involved with GEAR UP since the beginning of the program. After President Clinton signed GEAR UP into law in late 1998 and the U.S. Department of Education completed the first competition for the grant, I began to serve as the GEAR UP director for a partnership grant in rural Maine. I then became the director for the Washington State GEAR UP program.
What are three things you wish you had known during your first year as a GEAR UP director?
A good grasp of the program's proposal, the implementation plan, and was engaged in partnership building prior to the start of the program.
A better understanding of the program regulations, i.e., GEAR UP statutes, rules and regulation, the dos and don'ts, as well as institution or state laws and regulations in administrating a program. Knowing the rules matters!
At least a basic, but good knowledge of program effectiveness evaluation.
There is a lot to navigate when administering a GEAR UP grant.  What do you consider the greatest challenge and why? I consider the following items to be among greatest challenges in the administration of a GEAR UP grant:
A program director must follow the statutes, rules, and regulations so that your program administration and implementation are what they were meant to be, either serving the intended target population or managing your finances.
A program director must be engaged in policy discussions and advocacy at different levels because if there is no policy, then there is no program.
Of all the GEAR UP programming you have been a part of, what have you enjoyed the most?  If applicable, what would you consider the least favorite? With GEAR UP being a student-centered program, I have enjoyed interacting with the students the most. Seeing GEAR UP students in the STEM classes or on a bus to visit a college campus is priceless! My least favorite part is begging for match.
What could you share about your experience implementing 7th Year services? We have not had a systematic experience in implementing 7th Year services as part of the state GEAR UP program. However, in my current role I provide oversight to other programs that do serve postsecondary students. One of the approaches that I hope to see good outcomes with is the texting services provided through AI chatbots. We hope the use of chatbots translates into more data and higher student engagement.
As you look back over your years of experience and reflect, what advice would you give other GEAR UP directors? Be optimistic. Creating and sustaining a college-going culture is like embarking on a long march.
We work with schools. 
We work with students. 
We work with families.
We work with communities.
It is not an easy job. Some people have been trying it since the 1960s, with only limited success. So, we need to build on the successful models of others and learn from peers. Have a big picture, know the operational necessities, and keep at it.
Thank you Weiya for your commitment to #GEARUPworks and for all of your guidance!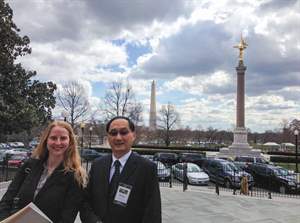 Weiya Liang and Chrissy Tillery, The White House, Washington, DC (2013)